If the French president reaches out to British people, perhaps the disaster of leaving the EU could be averted, writes Guardian columnist Natalie Nougayrde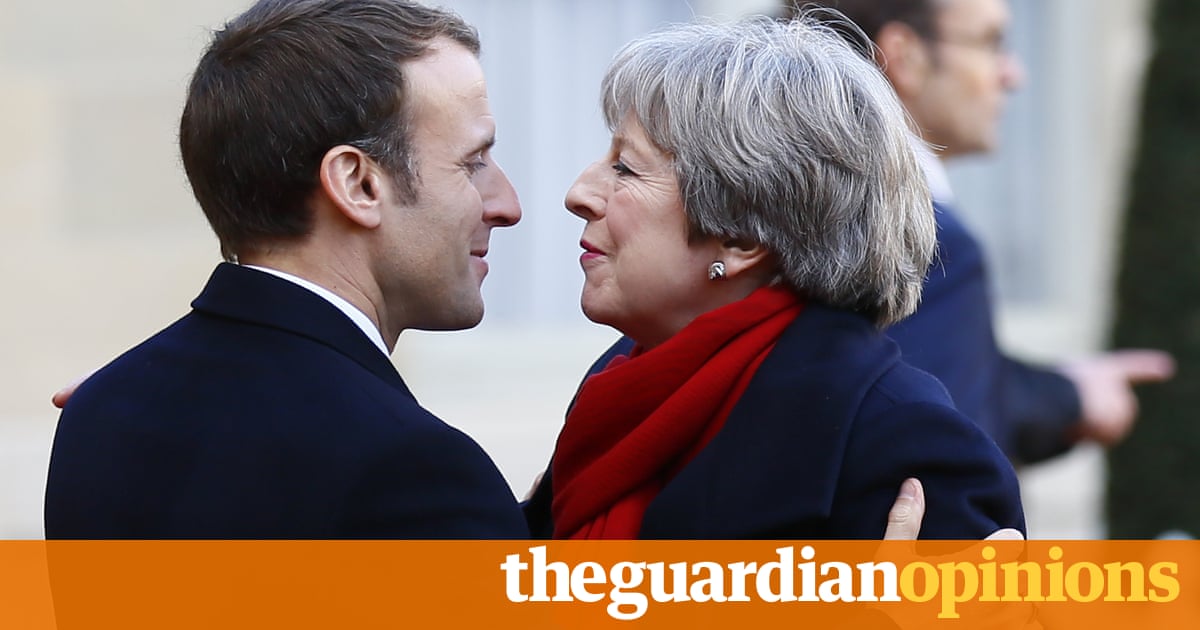 This was the year France won and Britain lost. Emmanuel Macron emerged to transform a sclerotic political scene, dazzling the world and many in his country with a youthful energy that made French rejuvenation a buzzword. Theresa May stumbled from one hiccup to the next, rushing to Washington for an awkward meeting with Donald Trump, triggering article 50 with no plan for the aftermath, and losing her majority inparliament.
Macron made headlines with slogans such as Lets make the planet great again. Mays mantras from global Britain to Brexit means Brexit backfired or seemed to go nowhere. Macron secured a solid base in the national assembly for hisupstart La Republique en Marche party. He made sweeping, lyrical speeches about Europe, heralding a new era of empowerment and European sovereignty.
May went to Florence, in a worthy attempt to build bridges with Europe, despite everything. But what mostly got noted was that the UK would pay its dues to the EU an early sign of bowing to the inevitable as her Brexit negotiating team prepared to align itself with conditions laid out by Brussels.
For these two former global, colonial powers who must now grapple with a fast-changing world where punching above your weight is no longer so easy, this year surely marked Gallic triumph and British misery. But would the French be right to gloat? If things continue like this in 2018, no one will stand to gain. Granted, Europe has other powerful players, not least Germany, but the relationship between these two large neighbours across the Channel matters all the same.
The French have always faced accusations of arrogance, tempted as theyve been to see Europe as an extension of their country. And many Brits were always only half-convinced if half-informed about what the EU was all about in the first place (not just a single market). History and domestic politics accounts for much of this.
But France has a lot to lose if Britain turns its back on Europe. To say good riddance, as former French prime minister Michel Rocard once said, is short-sightedness. Brexit has now become a process so tedious and drawn out that weve almost forgotten the shock of that morning of 24 June 2016.
Parts of Frances establishment have long thought of Britain as a contrarian force in the European club. De Gaulle was right to block the British, goes that line of thought. For one thing, British-led EU enlargement to the east in fact, Europes reunification diluted Frances sense of being the indispensable cornerstone. Europes centre of gravity shifted to Berlin, and in the following decade, Germany did much better than France.
So it has been tempting for some in Paris to relish the thought of going back to some sort of core Europe model: a cosy group holding close to the vision ofthe founding fathers of the 1950s.
This wont fly. The world has changed. Europe has changed. Forces that have the potential to undermine it have not dissipated from Moscow to Ankara, from entrenched populist movements to the cyber-world, from migration to the many impacts of unregulated globalisation.
For all the talk about Europe surviving (or even being galvanised by) Brexit and Trump, Britains current crash course out of the EU remains as damaging a move for all as it was deemed to be 18 months ago. Brexit will represent the first European breakup in 60 years a wound whose ultimate consequences we have yet to fathom.
Read more: https://www.theguardian.com/commentisfree/2017/dec/30/macron-2018-brexit-french-president-europe-leaving-eu